Specialised mulchers for vineyards and orchards
The BVR 160 - 180 - 200 mulchers are made of high resistance steel. Standard equipped with heavy hammers, three counter-knives and collecting rakes can be ftted to facilitate the shredding of pruning. The BVR series 100 range is available in two versions, one with a central-fxed headstock and one with a mechanical or hydraulic offset. The new generation of mulchers BVR series 100 is designed with a smooth, low rounded profle without protrusions ideal for shreedding close to the trees easily. Equipped with an inlet opening that has been enlarged to enable a big volume of pruning to enter and to be shredded. The roller with removable ends can be adjusted in two positions, forwards and backwards. The forward position ensures a higher working speed, while the backward position allows a better shredding of pruning, with or without the collecting rakes.
Working widths: 1600, 1800, 2000 mm.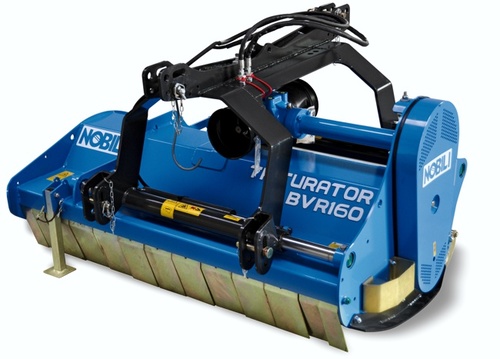 Technical features
BVR 160
BVR 180
BVR 200
Connecting position
Reversibile
Reversibile
Reversibile
Lateral displacement
mm
765 - 765
829 - 1175
859 - 859
912 - 1360
953 - 953
1000 - 1450
Working width
mm
1530
1718
1906
Engine speed pdp
rpm
540/1000
540/1000
540/1000
Tractor horse power
HP
50-110
60-110
70-110
KW
37-80
44-80
51-80
Rotor speed
rpm
2204/2354
2204/2354
2204/2354
Pruning residues
<
< 8 cm
< 8 cm
< 8 cm
Blades
06
16
18
20
Measures
A
1675
1863
2071
B
1240
1240
1240
C
525
525
525
Weight
KG
650
710
755